B. THE SCHOOL PATRONESS: St. Elizabeth Ann Bailey-Seton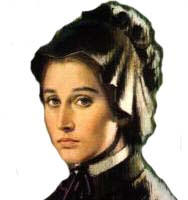 Elizabeth Ann Bailey-Seton was born on August 28, 1774 in New York to a devout and wealthy Episcopalian family. In 1794, at the age of 19, Elizabeth married William Magee Seton, a prosperous banker and merchant and had five children: Anna Maria, William, Richard Bayley, Catherine Charlton and Rebecca Mary.
In the fall of 1803, an ailing William brought his wife and daughter Anna Maria to the warmer climates of Italy to visit the Felicchi family who were renowned merchant of Livorno. Discovered to have been suffering from yellow fever, William, died in December 27 of the same year in Pisa, which left Elizabeth a widow at the age of 29.
The Felicchi's provided gracious hospitality to the widow and child until they returned to America the next spring. While in Italy on the other hand, Elizabeth was introduced by the Filicchi's to the Catholic religion arousing her interest to the Sacred Liturgy.
Although Elizabeth left the United States a firm Protestant, she returned to the United States with the heart of a Roman Catholic which was ostracized by family and friends. In her discernment she sought the guidance of the first Bishop of Boston, Rev. John Cheverus, who reinforced her conversion to embrace Roman Catholicism taking her religious vows in 1805.
Rev. Louis William Dubourg, S.S., a Sulpician priest met Elizabeth during a trip to New York in 1806. Impressed by her commitment to her faith, the Sulpicians invited Elizabeth to join them in Maryland where they have established a sisterhood they have named "Sisters of Charity of Saint Joseph's" where later she was named "Mother Seton".
Elizabeth opened Saint Joseph's Free School in February 22, 1810 to educate needy girls of the area; this was considered as the first free Catholic school for girls staffed by sisters in the country. The Sisters of Charity later spread its wings to open orphanages in Philadelphia and New York.
Elizabeth died of tuberculosis in Emmitsburg, Maryland on January 4, 1821. By this time her congregation, the first to be founded in America has ventured to servicing orphanages, hospitals, child care institutions, homes for the aged and handicapped schools at every level.
The work of education and charity lives on in Elizabeth's spiritual daughters around the world. Archbishop James Gibbons of Baltimore initiated her cause for canonization in 1882. Blessed John XXIII declared Elizabeth venerable in December 18, 1959, and also beatified her on March 17, 1963. Pope Paul VI canonized Saint Elizabeth Ann Seton September 14 during the Holy Year of 1975 and the International Year of the Woman.